Uzomedia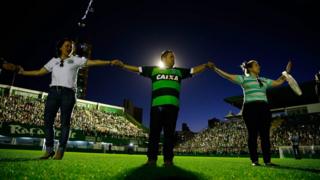 Thousands of people in Chapeco in Brazil have held a vigil for the victims of a plane crash, who included most of the city's football team.
Fans of the Chapecoense team walked from the city centre to the stadium where they prayed and sang. A service was also held in the city's cathedral.
The team were flying to Colombia for the biggest match in their history when their plane went down shortly before landing in Medellin, late on Monday.
Six of the 77 people on board survived.
It is not clear what brought down the chartered aircraft, but some unconfirmed reports have suggested there was an electrical fault, while others say the plane was low on fuel. Both flight recorders have been recovered.
Crew member Ximena Suarez, who survived the flight, said "the lights went out and I don't remember anything after that".
'It's really tough'
Some 10,000 people –…
View original post 586 more words